Albrecht Dürer, was the son of a jeweler who had emigrated from Hungary, living in Nuremberg, Germany. After his first education, Dürer started to work in his father's jewelry shop in 1484. Dürer was interested in drawing, in which his father, who was gifted with gold, was also successful. He learned the basic rules of jewelry and drawing from his father. Dürer's outstanding talent in the drawing soon emerged. His thirteen-year-old self-portrait, drawn while Dürer was in his father's workshop, carried early signs of his forthcoming genius.
In his self-portraits, Dürer sometimes used a silver pen technique and subsequently added his monogram manually. Thus, it prevented the picture from being corrected later. Dürer was one of the first artists to make his own portrait in the history of western painting. Some self-portraits, which gave insight into his appearance, provided a foresight into his personality.
Age 13 
Self-Portrait at the Age of 13, 1484, Silverpoint on paper, 27.3 x 19.5 cm, Albertina Museum, Vienna, Austria.
In this portrait, which was drawn by a silver-tipped pen when he was thirteen, the childish face of the artist was covered with long hair. He shaded his self-portrait with elaborate and fine lines. This drawing was the first of Dürer's self-portrait series, which he produced in the form of patterns and paintings throughout his life. It was also the beginning of Dürer's persistent analysis of his own appearance. Thus, in every period of his life, his physical appearance, as well as allowed us to monitor the spiritual development. Dürer later added the following to the painting: "Albrecht Dürer was still a child when I drew this drawing in 1484 by looking into the mirror".
After getting his first art knowledge from his father, at the age of 15, he began to work as an apprentice in the workshop of Michael Wolgemut, one of the most prominent painters and book illustrator in Nürnberg. In 1489, he left Wolgemut. Dürer has gone on a long research trip to expand his horizons and gain experience. He stayed away from Nuremberg for four years. He traveled to Germany, Switzerland and various parts of France.
Age 22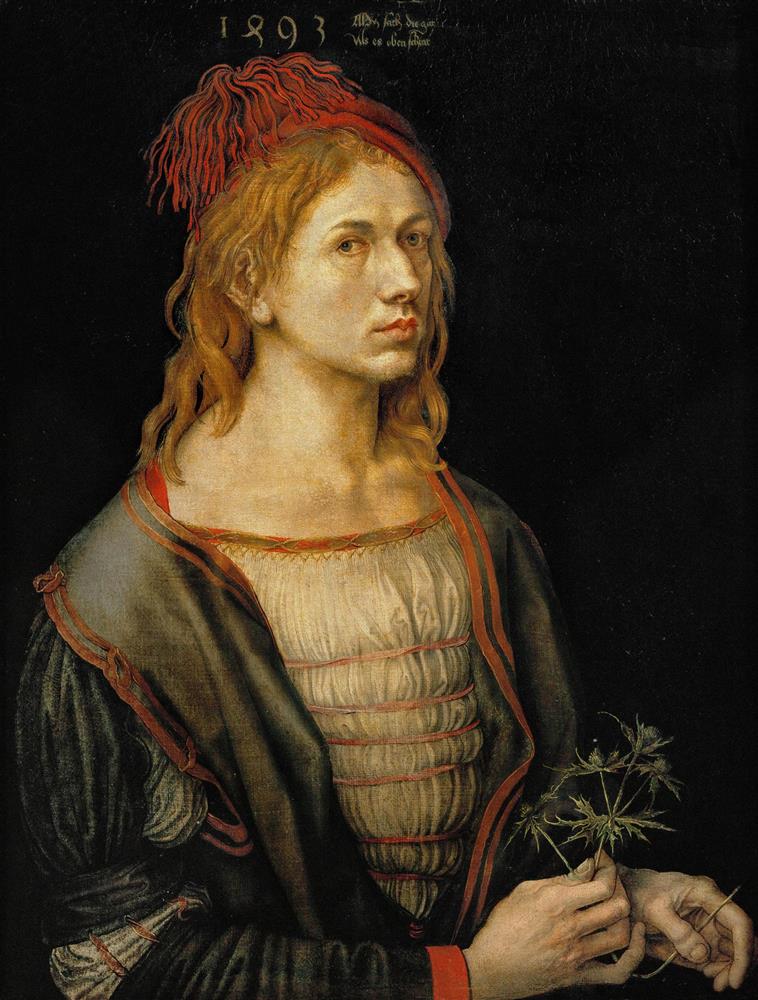 Self-Portrait of the Artist Holding a Thistle, 1493, Oil on parchment paper, mounted on canvas, 56 x 44 cm, Musée du Lourve, Paris, France.
During his travels, Dürer made his first oil painting self-portrait at Strausburg in 1493 at the age of 22. While Dürer was traveling, his father determined the conditions of marriage and found a suitable wife for him. Holding a branch of a plant similar to thistle and this plant in German means loyalty, the picture was made to be sent to his fiancé in Nuremberg was speculating. Dürer wrote in this self-portrait the phrase "My business proceeds on the way allocated from above" and the date of 1493.
Dürer returned to Nuremberg in 1494 after a four-year-long journey. At the age of 23, he married Agnes Fery, the daughter of a wealthy copper master from Nuremberg. In 1494 he traveled to Italy. He made his first visit to Venice, where he encountered the Italian Renaissance. He was very impressed by the artistic environment of Italy. In 1495 Dürer returned to Nuremberg from Italy and opened his own studio. The Italian influence was clearly seen in his works reflecting the northern tradition for five years. During this period Dürer also painted two self-portraits that remained to this day.
Age 26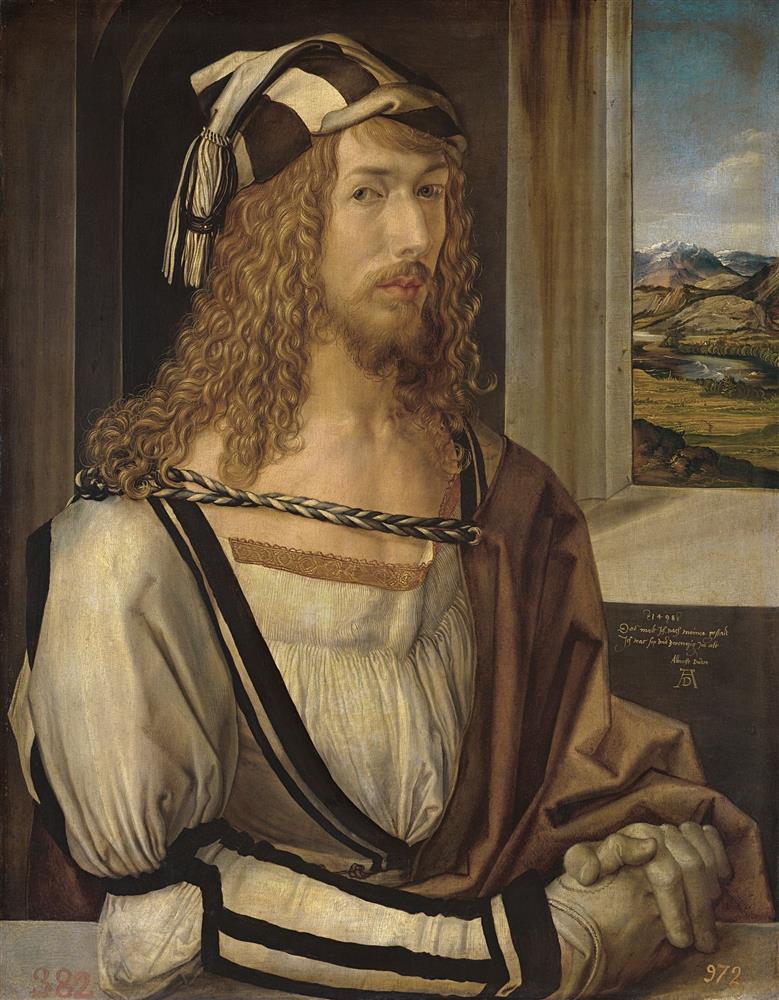 Self-Portrait, 1498, Oil on panel, 52 x 41 cm, Museo del Prado, Madrid, Spain.
His second oil painting self-portrait painted in 1498 after his visit to Venice revealed that he was impressed by the Renaissance portrait tradition. He painted himself as the Venetian elite with his stylish outfit and well-groomed hair. He placed his body on the windowsill in accordance with the Renaissance tradition and placed a landscape in the background. Dürer painted self-portrait with a sparse beard, long curly hair and a striped hat, he calmly amalgamated his hands, confident, staring right. This self-portrait was a picture of how he wanted to look like an aristocratic young nobleman who had all his grace. He added this to his self-portrait, "I made this portrait like myself / I was twenty-six years old".
Age 28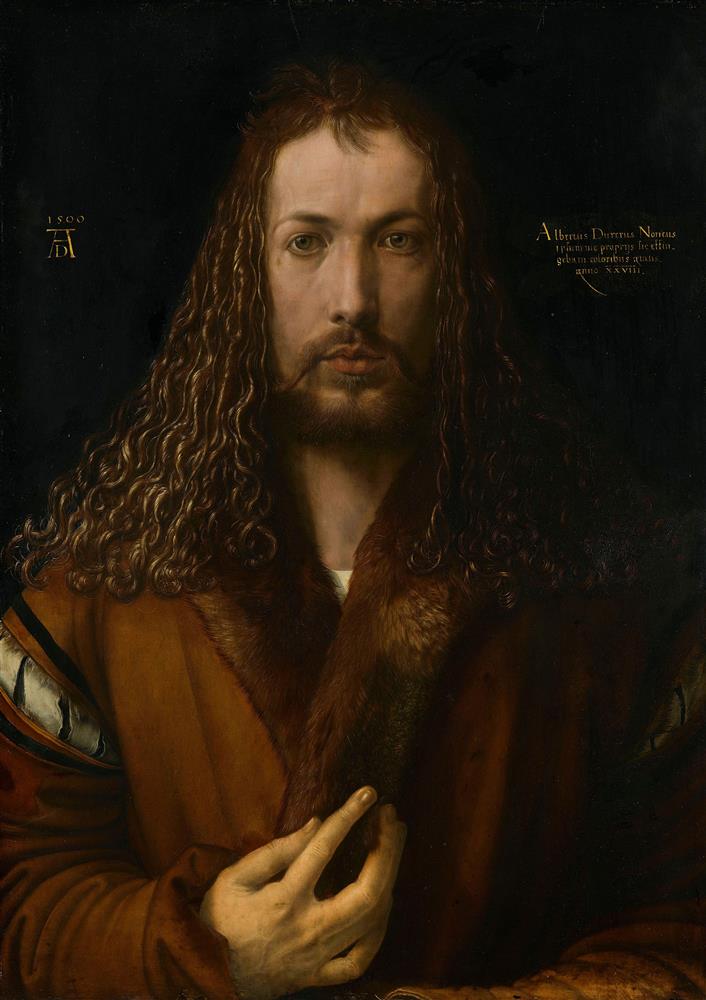 Self-Portrait with Fur Collar, 1500, Oil on panel, 67.1 x 48.9 cm, Alte Pinakothek, Munich, Germany.
Dürer's third oil painting, "Furry Self-Portrait", is probably his most famous self-portrait. Dürer portrayed himself from the facade of the self-portrait in which more bleak colors dominated. He depicted his thin, sparse hair on top of his head, which contrasted with his long curls. The eyes facing forward, brown hair and face with a beard similar to Jesus, this self-portrait was differentiated from the others for the first time in Western art. There was also writing in this picture: "I, Albrecht Dürer, present myself with such permanent colors at twenty-eight years old". On the top left, Dürer's monogram was written in 1500.
Bibliography ;
Yetkin, S.K., (2007). Büyük Ressamlar, Palme Yayıncılık, Ankara.
Lunday, E., (2013). Büyük Sanatçıların Gizli Hayatları, Beşinci Baskı, Domingo Yayınevi, İstanbul.
Çev:Kadıoğlu, B., (2011). Albrecht Dürer, Birinci Baskı, Yapı Kredi Yayınları, İstanbul.
Farthing, S.,(2014). Sanatın Tüm Öyküsü, İkinci Baskı, Hayalperest Yayınevi, İstanbul.
Gombrich, E.H., (2002). Sanatın Öyküsü, Üçüncü Baskı, Remzi Kitabevi, İstanbul.
Labno, J., (2014). Rönesans Ayrıntıda Sanat, İkinci Basım, Türkiye İş Bankası Kültür Yayınları, İstanbul.
Çev:Demir, F., (2004). Artbook Dürer Alman Rönesansı'nın Büyük Ustası, Birinci Baskı, Dost Kitabevi, Ankara.
-----------., (2007). Albrecht Dürer, Birinci Baskı, Boyut Yayın Grubu, İstanbul.